DustMate
The DustMate environmental monitor is our handheld dust and fume detector and is perfect for short-term sampling.
Versatile and practical, this handheld device is ideal for short-term testing of air quality in buildings, workplaces and on the roadside. With a very fast response time, it delivers accurate readings and can locate sources of airborne dust and fumes even at very low concentrations.
Highly effective for monitoring air quality, the DustMate measures TSP, PM10, PM2.5 and PM1 simultaneously in real time. It will also continuously indicate the concentration of thoracic, inhalable and respirable particles down to 0.1 µg/m3.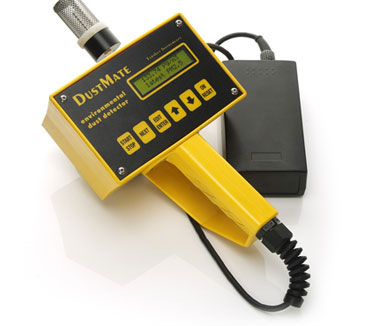 Product Description
User friendly and easy to set up, the DustMate is perfect for monitoring controlled environments such as cleanrooms in manufacturing plants or scientific research laboratories, where it is essential that low levels of pollutants such as dust and airborne microbes are maintained. In addition to use in buildings, its portability and one-second time resolution make it ideal for use as a roadside indicator to identify high-pollution vehicles as they pass.
Light and ergonomically designed, it allows for single-handed operation at arm's length while used in handheld mode. If a long sample period is required, the DustMate device can be fixed to a tripod.
How it works
The DustMate, along with our other airborne particle monitors, works using Turnkey's specially developed nephelometer. Air samples are continuously drawn through the nephelometer, which analyses individual particles as they pass through a laser beam. The particles are then collected on the reference filter. The nephelometer's microprocessor has the capacity to analyse individual particles even if there are millions of particles per litre.
Reporting and analysing data
For reporting purposes, the DustMate can be used with Turnkey's AirQ or with AirQWeb software. This enables results stored in the DustMate memory to be uploaded to your computer or device when sampling has been completed.
You can also use your computer to control and collect results from the DustMate sensor in real time.