Agricultural BrakeSafe
Turnkey worked with the British Agricultural and Garden Machinery Association (BAGMA), the British Heath and Safety Executive (HSE) and the Department for Transport when we were developing the Agricultural BrakeSafe.
At the time, the problem of underbraked trailer equipment was causing concern in the farming industry and many vehicles were reportedly failing to meet legal obligations under the Road Vehicles (Constructions and Use) Regulations Act 1986. Developing the Agricultural BrakeSafe was a key part of a wider initiative to improve safety in this area. It is now supplied by BAGMA with their brake test training courses.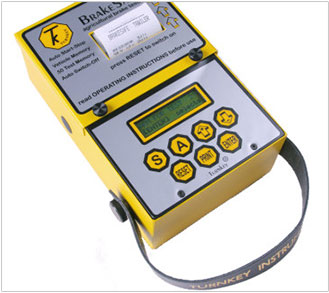 It is the UK's only portable brake tester designed specifically for the brake testing of tractors and trailers. The tester is easily alternated between tractor and trailer testing mode using the arrow keys.
The Agricultural BrakeSafe was designed based on our existing BrakeSafe Classic tester. It measures peak and mean fully developed deceleration (MFDD), as well as testing speed, stopping distance and stopping time. It is also able to adjust deceleration for the mass ratio when testing trailers. In trailer mode, the ground slope offset must be measured at the end of the test. Again this is simply done using a button on the control panel.
How it works
The device is positioned in the vehicle with the arrow facing in the direction of travel and positioned against a bulkhead to prevent movement when braking. We recommend the test is carried out on level ground. The test can be carried out using the Pedal Force Transducer (PFT) or Hydraulic/Air Switching Unit (HSU) which should be plugged into the DIN socket on the side of the case. The user is prompted to enter some vehicle information and then the test can begin.
Once the vehicle comes to a stop, the results will be displayed on the screen and can also be printed immediately on the built-in printer for a hard copy of the results.