micro

BrakeSafe

The microBrakeSafe testing unit is our smallest portable brake tester.

DVSA approved, it is suitable for use by UK MOT test centres, as well as garages and authorised test facilities around the world.

The microBrakeSafe measures mean fully developed deceleration quickly and accurately (better than ±2 %g) which means results generated by this tester meet the latest standards for the EU and the United Nations World Forum for Harmonization of Vehicle Regulations.

Compact, self-contained and easy to use, it can be used to measure brake efficiency in cars and HGVs (heavy goods vehicles). The microBrakeSafe also offers an HGV trailer testing mode.

Versatile and user-friendly, it is ideal for organisations carrying out fleet testing and monitoring, as well as MOT centres and government traffic authorities.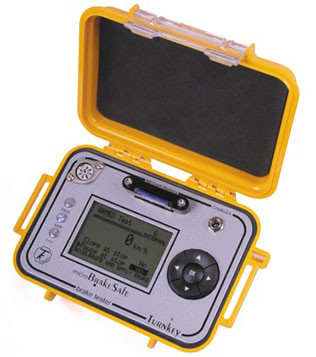 DVSA approval number: EINBD10860A0211014
How it works
Wireless with Bluetooth connectivity, the microBrakesafe does not need connecting to the vehicle. If required, it can be used with Turnkey's Bluetooth transducer to measure pedal force and delay time.
The device is self aligning, so can simply be placed in the vehicle and will detect the direction of travel. It has a user-friendly menu and is operated with a simple single-click control. A pass or fail light illuminates to make the outcome of the test instantly visible to the user. The threshold for pass and fail can be adjusted by the user to meet specific requirements.
All test data is saved with date, time, vehicle & operator identity and more. These can be transferred directly to a PC, or transferred later from its SD memory card, for analysis or printing for a hard copy record.
The instrument can be preloaded with 99 vehicle names, 70 trailers, 16 test conditions, 4 brake types and 8 examiner names. It comes with a 4 MB internal memory and a 2 GB SD card for storing multiple test results.