Simret.ic
The Simret.ic is an in-cab brake tester. Simple to operate, the Simret.ic can be permanently installed in the cab of a vehicle.
Once in place, it works with a quick and simple one-button command, making it ideal for drivers to carry out routine brake testing during shifts without any downtime.
The Simret.ic is housed in a lockable, plated steel case (hose proof to IP66) which protects the device and enables access to the engineer's control panel to be restricted.
Permanently fitted in-cab
One-button testing with pass/fail lights
Suitable for heavy vehicles and mine locomotives
Up to 99 full test results saved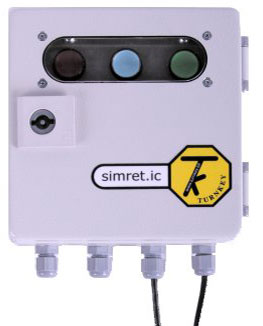 How it works
It is simple to operate and can be used single-handedly. Testing is activated by pushing a single button: a bright, blue light will illuminate to notify the driver that testing can begin. The driver then accelerates to the recommended test speed and, once that speed is reached, simply applies the brakes to bring the vehicle to a stop.
The Simret.ic calculates the result, which is then displayed with a green light for a pass or a red light if the brakes fail to meet the preset level required. This simple traffic light system immediately alerts the driver of the vehicle to a problem.
The settings can be easily changed by the vehicle mechanic, allowing for different pass thresholds to be set. All tests are date and time stamped, and the results for 99 tests can be stored directly on the Simret.ic.
Results can easily be downloaded and printed, and the internal battery allows results to accessed and downloaded without needing the vehicle ignition to be switched on. The battery is automatically recharged when the vehicle is running.
Recalibration should be carried out annually – the lights on the control box flash to warn when recalibration is overdue. This is a quick process, carried out by changing the sensor.