Simret 3000 Brake Tester
The Simret 3000 brake tester was Turnkey's first product. Designed for testing the braking performance of heavy goods vehicles (HGVs) this piece of equipment was developed in conjunction with the British Health and Safety Executive (HSE).
Portable, straightforward to use and accurate to within 0.5%, the Simret 3000 has become the de facto standard for the brake testing of heavy vehicle and machine braking systems to ensure compliance with health and safety standards.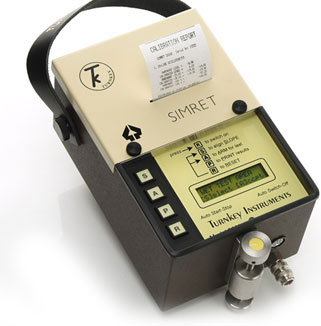 Heavy vehicle accidents are often caused by the deterioration of brakes, so regular brake testing is important in the prevention of accidents. The Simret 3000 can be used regularly to identify early deterioration of brakes, so that action can be taken before it's too late: crucial to reducing brake failure related incidents.
The Simret 3000 can be used in a range of conditions and environments because it will deliver accurate results regardless of ground conditions, vehicle speed or gradient. This has led to its wide use in mines, quarries and rail traction environments globally.
A foot pad is strapped to the brake pedal, and the user-friendly controls can be used to set the vehicle ID.
The test results are displayed on the backlit LCD screen, and can be instantly printed by the vehicle driver if a printed version is required, giving immediate hard copy evidence for the specific test. All tests are time stamped.
Up to 50 brake tests can be stored in the Simret 3000's memory, and test results can also be transferred to your computer for reporting, storing and analysis using our WinSim software.
The Simret 3000 comes as a complete ready-to-use kit and includes a leather case for the tester and all its accompanying accessories.
We recommend that the Simret 3000 is recalibrated once per year, or earlier if the instrument self test warns of a calibration fault.