g-meter+
The g-meter+ was designed for carrying out statutory annual MOT brake performance testing, and is DVSA-approved by the GEA, including for data transfer with the MOT Testing Scheme (MTS).
In addition to use for cars and vans, it is suitable for brake performance testing on HGVs. It is also TÜV Rheinland certified as a brake-measuring instrument.
Suitable for the MOT brake testing of all classes of vehicles (Class III, IV, V, VI & VII vehicles in accordance with the Motor (Tests) Regulations 1981, as amended) the g-meter+ is practical, reliable and straightforward to use. It is also suitable for testing HGVs in accordance with the Goods Vehicles (Plating and Testing) Regulations 1988, as amended.
Small, lightweight and portable, the octagon-shaped tester measures just 122 mm across and is just 24 mm deep. It is compatible with the Turnkey AP1300 printer, which is also small and compact, and can be used to print instant results on the spot and away from a desk. With our g-meter PC software, you can also connect the g-meter+ to a computer to manage tests and settings.
Equipment Identification Number: EINCBD10863A1019134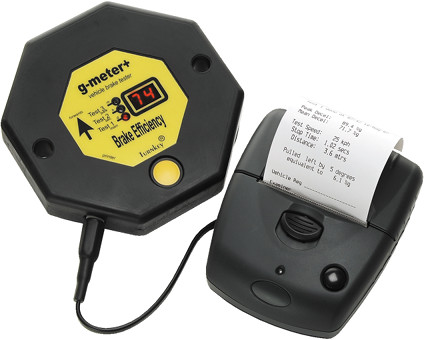 Connecting to MTS
To connect your g-meter, g-meter+ or BrakeSafe for use with the DVSA's MOT Testing System (MTS), see the instructions here.