SkidMan
The SkidMan is our accident investigation instrument – a versatile instrument designed for brake and skid testing, road traffic accident investigation and reconstruction as well as vehicle safety inspections.
Portable and versatile, the SkidMan weighs just 2.75 kg and measures just 22 x 14 x 8 cm. Its metal case makes it tough and durable, and for added protection it comes in a leather carrying holster.
Developed in conjunction with South Yorkshire Police, it is widely used by police forces across the UK and further afield for road traffic accident investigation and reconstructions.
Cost-effective tool for accident investigation and reconstruction
Widely used by UK police forces
Single-handed operation reduces test and investigation costs
Links directly to SkidCalc Accident Investigation calculator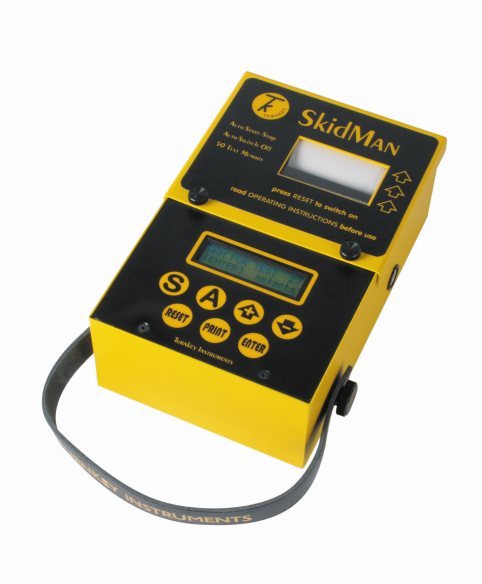 How it works
The SkidMan can be operated by a single investigator, making it a cost-effective approach to accident investigation. It has a user-friendly seven-button keypad for programming the device, and the user is guided by prompts displayed on the screen. The SkidMan is simply positioned on the passenger seat or in the footwell of the vehicle. It can be used with or without a touch-sensitive pad fitted over the brake pedal, and measuring will begin automatically.
If the pedal pad is fitted, the SkidMan can be used to measure the reaction time of the braking system.
Complete with built-in printer, any results and graphs can be printed instantly – ideal if this is required at the scene of an accident investigation.
Data can be stored on the SkidMan (there is capacity for up to 50 tests to be stored) or can be or transferred using the SkidMan's PC Link cable to a computer for keeping records and further analysis.
SkidCalc Program
We have also developed the SkidCalc program, which supports further analysis and reporting of results from the SkidMan.
Calculations are all based on the conventional Newton's laws of motion formulae used in accident investigation and reconstruction techniques.
Examples of calculations which can be carried out include:
Speeds when skidding to a stop (all or partial wheel locking)
Speeds when skidding and impacting at speed
Critical speed calculations
Pedestrian speeds, times and distances
Sight line calculations in relation to times, speeds and distances
Momentum exchanges
Vector calculations
Projectile and throw calculations
All calculations use SI metric units. However, to assist in court presentations, calculated speeds are listed in metres per second and miles per hour or, if required, in kilometres per hour.