Dust and particulate monitors
We offer a range of dust and particulate monitoring equipment. All our scientific testing instruments are designed and developed in-house by our team of specialist engineers.
We currently supply our dust and particulate monitors to clients of all shapes and sizes all around the world for use in a range of settings. They are routinely used on industrial sites, in manufacturing plants and by local authorities, councils and those involved in scientific research in this field.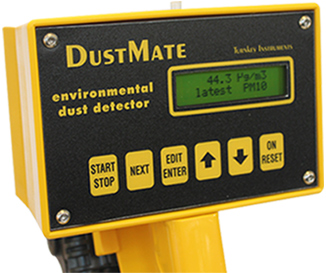 Our monitors measure TSP, PM10, PM2.5 and PM1: the recognised sampling standards measured throughout the world. In workplace mode, they can be used to monitor inhalable, thoracic and respirable fractions. They are accurate and straightforward to use.
Our Topas and Osiris monitors are Environment Agency MCERTS certified. In addition to measuring airborne particles, they can also be used to measure environmental factors such as
wind speed and direction
temperature
All Turnkey's dust monitors are compatible with the AlarmBox which can be set up to provide audio or visual alarms of predetermined levels of pollutants are reached or exceeded. Topas and Osiris can also be used alongside our iGAS gas monitor and our noise and vibration monitors at the same site, and powered with our solar and wind system or external batteries where there is no power at the site.
For more information on how our air monitoring equipment is being used please take a look at our news section.
Our range of dust and particulate monitoring: