iTINT
iTINT is our next-generation photopic vehicle window tint tester that has been developed from our tried and tested TintMan instrument. It incorporates many of its predecessor's unique features, such as magnetic clamping for solo operation, combined with the latest microprocessor technology, fast wireless printing and Wi-Fi control. When optionally paired with a compatible smartphone or tablet, vehicle registration details and geolocation can be included in the printout and the test results sent for cloud storage.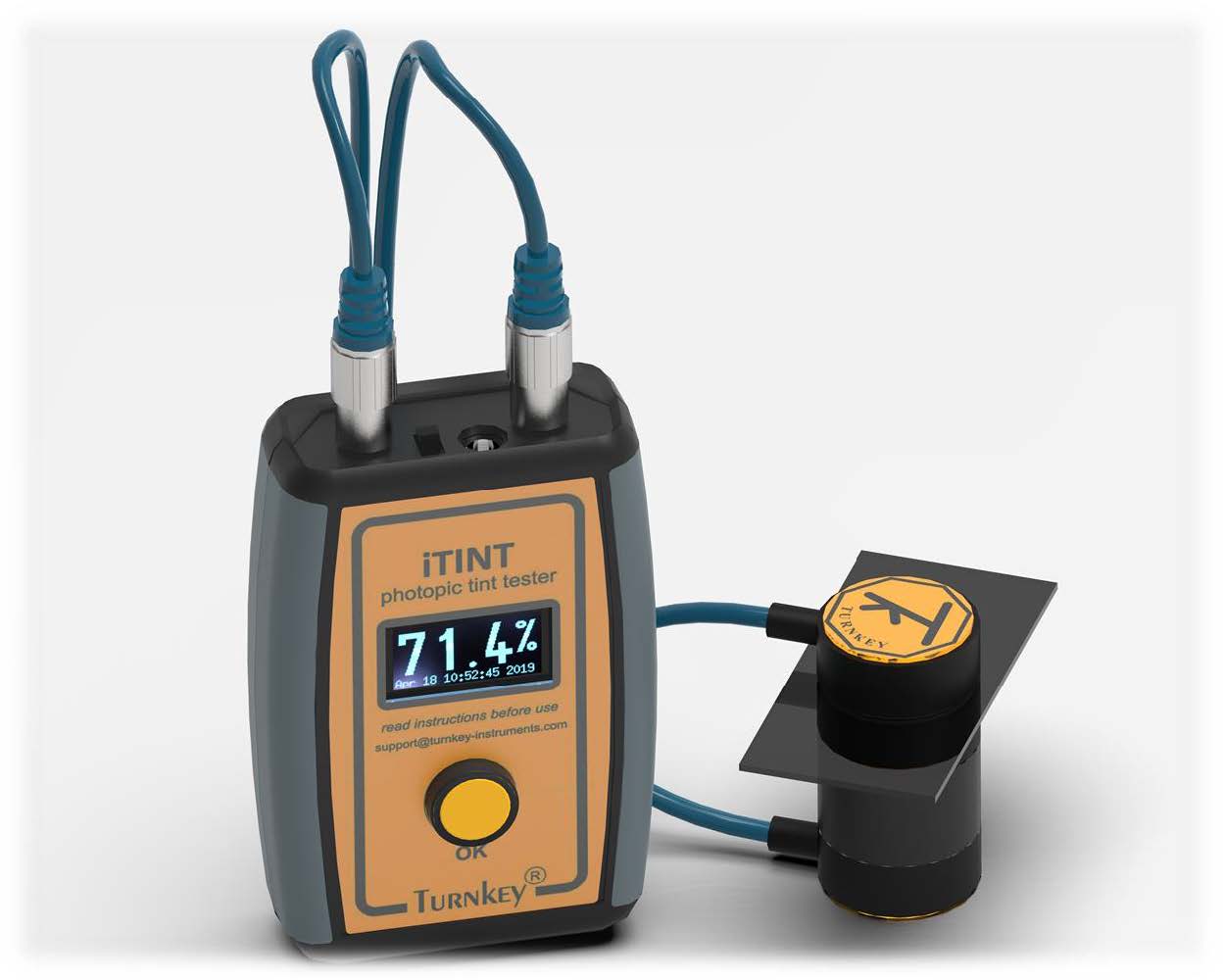 Light source: White light source, produced by stabilized incandescent tungsten filament lamp focused into near-parallel beam. Approximate colour temperature 2850 K, conforming to CIE illuminant A. Overall diameter 30 mm.
Detector: Large area silicon photodiode fitted with eye-response photopic filter. Relative spectral response follows the CIE photopic luminosity function. Overall diameter 30 mm.
Clamping arrangement: Self-aligning magnets for automotive glass up to 12 mm thick. Optical head has 2.5 metre cable length to readout unit.
Readout unit: Handheld with detachable light source and detector, connected via colour-coded cables. Simple one-button operation with tactile feel. Overall dimensions 120 mm x 80 mm x 35 mm. Soft-grip sides.
Readout display: Alphanumeric OLED with up to 13 mm character height. Gives operational prompts and low battery warning.
Cable extensions: Cables can be extended by 10 metres – essential for buses and other large vehicles.
Measurement range: 0 to 100% transmission. Display resolution 0.1%.
Accuracy: Better than ±3% transmission over measurement range after check against reference glass.
Real-time clock: Accurate quartz crystal clock allows the readings to be time stamped.
Memory: Stores over 4000 tint tests with GPS location, time and date stamped.
Battery: Internal 3.7 V lithium battery. For recharging, instrument is supplied with 12 V DC mains power pack and vehicle 12 V socket lead. Over 250 tests from fully charged battery.
Reference glass: UKAS-calibrated shatterproof reference window. Each is marked with actual transmission and is provided with a UKAS calibration certificate.
Instrument calibration: UKAS-traceable factory calibration against UKAS-calibrated 20%, 40%, 60% and 80% nominal transmission glasses. A calibration certificate is provided. Annual recalibration is recommended.
Environmental conditions: -10 ⁰C to +50 ⁰C operating temperature range. Maximum humidity 90% RH non-condensing.
Wireless interfaces: Wi-Fi and Bluetooth 4.2. Built-in webserver provides web browser microsite for Wi-Fi enabled smartphones and tablets. Remote readout and control available for smartphones and tablets (Android and iPhone). Vehicle details, location and notes can be entered, together with latitude and longitude information if GPS is available from the device. All this information is included in the printout.
Wireless printer: Thermal dot matrix. Battery powered, with internal rechargeable lithium battery. Bluetooth interface, 58 mm paper width.
Carry case: All supplied in strong carrying case.
Web and App Interfaces
You can connect to your iTINT by Wi-Fi and use its web interface or iTINT App with a phone or tablet.
With this, you can:
View and print test results.
Set vehicle and test details.
See instrument status.
Remotely operate the iTINT.