Simret 4000 Brake Tester
The Simret 4000 is designed for testing the braking performance of off-road vehicles. It is compact and lightweight, with a large, backlit screen and detachable printer.
The instrument is ideally suited to the brake ratio method of testing, which is recommended as best practice for rubber-tyred vehicles in quarries, open cast coal sites and mines.
The Simret 4000 records average brake ratio, test incline, speed and stopping distance, and because the brake ratio is measured independently of gradient and speed, tests can be carried out in different environments and conditions.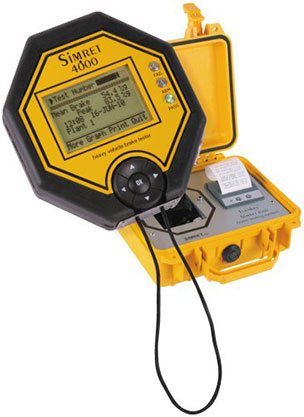 How it works
The latest addition to our range of HGV brake testers, the Simret 4000 is the world's first Bluetooth-enabled heavy vehicle brake tester. So there are no cumbersome wires or cables to worry about.
It is straightforward to use, with a clear user-friendly menu and single-click control. The pedal pad is simply fitted, by sliding its clip or wrapping its Velcro strap over the brake pedal.
A pass or fail light will be illuminated following the test, and more detailed results are displayed on the large, backlit screen. A printed record of the average brake ratio, test incline, brake delay time, stopping distance, and speed when braking was initiated, along with a brake ratio/time graph, can be produced straight away on the accompanying wireless printer. The Bluetooth-enabled printer can also communicate with other Turnkey instruments.
The Simret 4000 has a 4 MB internal memory, giving it the capacity to save up to 99 test results complete with graphs. It can also be used with an optional 2 GB SD memory card to provide even more data storage. The device memorises up to 99 plant descriptions, 16 test conditions and 4 brake types. All results are date stamped and annotated with test conditions, operator and plant description.
We recommend that the Simret 4000 is recalibrated once per year, or earlier if the instrument self test warns of a calibration fault.