Noise & Vibration Products:
iDB Noise Monitor
The Turnkey® internet iDB provides remote on-site multichannel monitoring of noise with data logging and automatic alarms via email, text messaging, or a visual traffic light system. Alarm types and thresholds for vibration and noise are configured by the user and their thresholds can be set to depend on the time of day.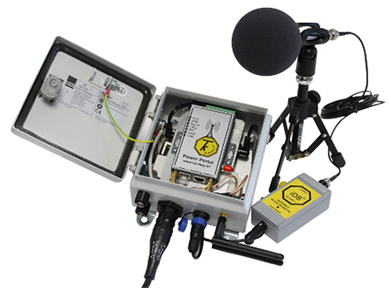 iDB connects to Turnkey's AirQWeb cloud server. This allows integrated monitoring and control of noise, vibration, dust, meteorology, and air quality on your site. Live and historical Leq, L10, L90, Lmax, LCpeak and other readings are available to view on your computer, phone or tablet, anywhere, anytime. The reporting interval can be as fast as every minute.
The iDB can also be used alongside our range of air pollution monitors at the same installation, and powered off-grid with our solar and wind power system or external leisure batteries.
iDB gives Class 1 performance over a 95 dB dynamic range, so 30 dB to 120 dB SPL is covered in a single range. Uniquely, iDB measures both dB(A) and dB(C) frequency weightings simultaneously, with F or S time weightings. As well as Leq over the reporting interval, iDB also reports statistical values such as L10, L90 and Lmax in both dB(A) and dB(C) simultaneously. Other statistical sound indicators over arbitrary periods can be calculated within AirQWeb from the uploaded readings.
For Class 1 noise monitoring simultaneously with vibration monitoring, see our iVIBEseismic monitor.