WinSim
WinSim is our specially-developed Windows software for the storage, analysis and reporting of brake testing data. It was designed to be compatible with Turnkey's Simret or BrakeSafe range of brake compliance testers.
With WinSim, brake test results can be downloaded directly from your Simret or BrakeSafe device straight to your computer. The software enables the user to store results data in a searchable database. Results can be interrogated by date, examiner, vehicle name or instrument serial number. Data can be used to easily create graphs and reports, which can be viewed on screen or printed. Test results can also be exported from WinSim to Excel for further analysis or for sharing with others who don't have the same software.
WinSim also offers the functionality to add on-screen notes – perfect for detailing additional information such as specific test conditions.
A scheduling function allows users to create graphs illustrating average test results over a period of up to a year, and can also be used for planning and signing off vehicle testing schedules.
WinSim is popular with test centres and those responsible for tracking the compliance of fleet and site vehicles. It makes recording and monitoring results straightforward, even for large volumes of vehicles. We recommend downloading this software to really get the most from your Simret and BrakeSafe testers.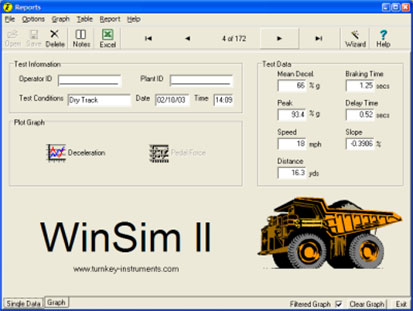 Latest update
For upgrading WinSim software you already have installed. (If you need to install from new; use the full installer instead)
Full installer
For installing WinSim on a new computer. (Don't use this for upgrading an existing installation; use the updater instead)